COLUMN
JS Shirase Departs Japan on Support Mission for the 62nd Antarctic Research Expedition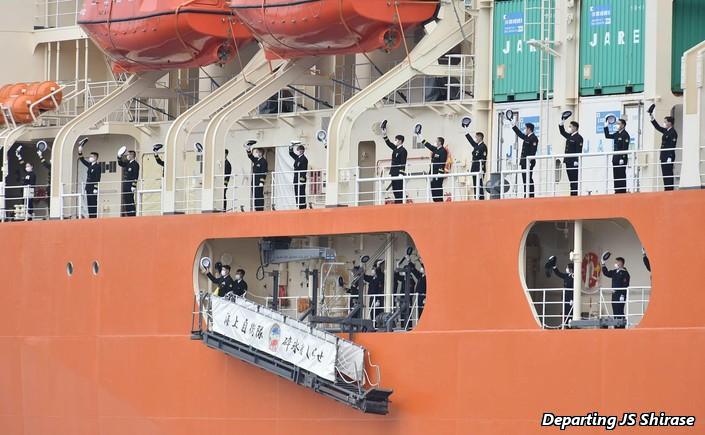 On October 27th, Captain Takeuchi, Commanding Officer of the JMSDF icebreaker JS Shirase, reported his departure to Minister Kishi.
The JMSDF has been participating in the Antarctic Research Expedition since 1965 (7th expedition). The JS Shirase is the third-generation icebreaker succeeded the JS Fuji and the first-generation JS Shirase.
On November 6th, the icebreaker JS Shirase departed from Yokosuka for Antarctica to conduct its support mission for the 62nd Antarctic Research Expedition. It is scheduled to arrive at Showa Station in late December.
Amid the novel coronavirus (COVID-19) pandemic raging worldwide, thorough measures are being taken to prevent the virus from entering Antarctica, as it is the only continent in the world with no confirmed COVID-19 cases. Approx. 180 JS Shirase personnel got tested and underwent a two-week offshore quarantine to make sure no one is infected. In addition, no port call will be made in Australia, where the expedition usually resupplies on both outward and return trips.
On this mission, JS Shirase will transport a total of approx. 1,050 tons of fuel and food and will provide support for both sea and land observations. It is scheduled to return to Japan in late February.