TOPICS
Osprey Flights Begin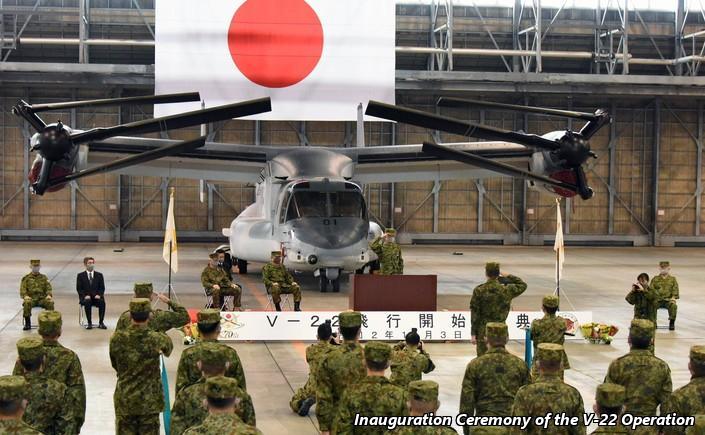 On November 6th, the Japan Ground Self-Defense Force (JGSDF) V-22 Osprey, which is temporarily stationed at Camp Kisarazu, Chiba Prefecture, conducted its first hovering within the camp and the flight outside the camp on the 20th.
The Osprey is an aircraft that combines the features of rotary-wing aircraft and fixed-wing aircraft, and it is capable of taking off from the remote islands which do not have the air base for fixed-wing aircrafts to land on. In addition, the V-22 Osprey contains high capabilities. Comparing to the CH-47JA transport helicopter currently owned by JGSDF, the maximum flight speed is two times faster, and the flight range and altitude are three times more than the CH-47JA.
Hence, V-22 Ospreys not only conduct measures to the invasion of remote islands, but they can also be utilized for disaster relief and emergency transport.
The MOD/JSDF plans to introduce 17 Ospreys in total, and in turn, continues to conduct flights for functional verification as well as maintaining and improving operators' skills.