Defense Minister Kono's Participation in the 6th ASEAN Defence Ministers' Meeting-Plus, the 5th ASEAN-Japan Defence Ministers' Informal Meeting, and Bilateral and Trilateral Defense Ministerial Meetings
in Japanese
November 19th, 2019
Ministry of Defense
(Provisional Translation)
 From November 16th to 18th, Minister of Defense Kono visited Thailand to attend the 6th ASEAN Defence Ministers' Meeting-Plus (hereinafter referred as "ADMM-Plus") and the 5th ASEAN-Japan Defence Ministers' Informal Meeting, and held meetings with some defense ministers of the countries represented at the ADMM-Plus. Brief summary of the meetings is as below.
1.The 6th ASEAN Defence Ministers' Meeting-Plus
 (1)  On Monday, November 18th, the 6th ADMM-Plus was held with the Minister-level participants from ten ASEAN Member States and eight Plus countries. At the meeting, the outcomes of the ASEAN Defence Senior Officials' Meeting-Plus (ADSOM-Plus) held in April and the decisions made at the ASEAN Defence Ministers' Meeting (ADMM) held in July were reported, and co-chairing countries of the Experts' Working Groups (EWGs) for the next cycle were endorsed. Minister-level participants also exchanged their views on regional and international security environment. The meeting also adopted a joint statement on "Advancing Partnership for Sustainable Security".
 (2)  Minister Kono stated that the series of ASEAN-led initiatives are reinforcing the resilience of this region and thereby making ASEAN's centrality and unity firmer, and that constructive participation of countries outside of ASEAN can support this positive process to be even more dynamic and Japan is determined to continue playing a constructive role, respecting ADMM-Plus, in order to support the resilience of the region.
 (3)  Also, he stated that Japan is strongly opposed to all unilateral attempts to change the status quo as well as coercion against other parties and that Japan urges demilitarization of disputed features and peaceful resolution of disputes in accordance with the United Nations Convention on the Law of the Sea (UNCLOS). In addition, he reiterated that Japan strongly expects that an effective and substantive Code of Conduct in the South China Sea (COC) to be concluded that is consistent with international law including UNCLOS and not infringe on the legitimate rights and interests of all parties.
 (4)  As to international security challenges, he referred to the North Korean issue and reiterated that solidarity of the international society is indispensable to ensure the effectiveness of UN Security Council Resolutions, including countering "ship-to-ship transfers". In addition, he referred to UN PKO and introduced Japan's efforts such as training engineering personnel from other countries as part of the UN Project for Rapid Deployment Enabling Capabilities to operate heavy equipment and stated our determination to continue playing our role under the framework of ADMM-Plus as a co-chair of the EWG on PKO with Viet Nam from 2020.
 (5)  Lastly, he touched upon "Vientiane Vision 2.0" which Japan launched during the ASEAN-Japan Defence Ministers' Informal Meeting the previous day, as an expression of our willingness to even more encourage cooperation in the Indo-Pacific with ASEAN as its hinge, and stated our determination to make every effort to uphold and reinforce the international order based on the rule of law, in line with our vision for a free and open Indo-Pacific.

Participants other than Japan
(1) ASEAN member states and others
Brunei Darussalam: Second Minister of Defence Seri Haji Awang Halbi bin Haji Mohd Yussof
Cambodia: Deputy Prime Minister and Minister of National Defense Samdech Pichey Sena Tea Banh
Indonesia:Minister of Defense Prabowo Subianto
Lao PDR: Minister of National Defense Chansamone Chanyalath
Malaysia: Minister of Defence Haji Mohamad bin Sabu
Myanmar: Minister for Defense Sein Win
Philippines: Secretary of National Defense Miguel Delfin N. Lorenzana
Singapore: Minister for Defence Ng Eng Hen
Thailand: Deputy Prime Minister (Defence) Prawit Wongsuwan
Viet Nam: Minister of National Defence Ngo Xuan Lich
ASEAN Secretariat: Secretary-General Lim Jock Hoi
(2) Plus countries
Australia: Minister for Defence Linda Karen Reynolds
China: Minister of National Defense Wei Fenghe
India: Minister of Defence Rajnath Singh
New Zealand: Minister of Defence Ron Mark
Republic of Korea: Minister of National Defense Jeong Kyeongdoo
Russia: Deputy Minister of Defence Alexander Vasilyevich Fomin
United States: Secretary of Defense Mark Esper
Co-chairs of EWGs for the 3rd cycle (2017-2019)
Humanitarian Assistance and Disaster Relief: Malaysia and United States
Maritime Security: Singapore and Republic of Korea
Military Medicine: Myanmar and India
Counter Terrorism: Thailand and China
Peacekeeping Operations: Indonesia and Australia
Humanitarian Mine Action: Lao PDR and Russia
Cyber Security: Philippines and New Zealand
Co-chairs of EWGs for the 4th cycle (2020-2023)
Humanitarian Assistance and Disaster Relief: Indonesia and India
Maritime Security: Thailand and United States
Military Medicine: Brunei and Australia
Counter Terrorism: Myanmar and Russia
Peacekeeping Operations: Viet Nam and Japan
Humanitarian Mine Action: Cambodia and China
Cyber Security: Malaysia and Republic of Korea
2. The 5th ASEAN-Japan Defence Ministers' Informal Meeting
 (1)  The 5th ASEAN-Japan Defence Ministers' Informal Meeting was held on Sunday, November 17th, and Ministers exchanged their views under the theme of "Review given efforts and discuss how to further collaboration to enhance the regional security".
 (2)  Deputy Prime Minister Prawit opened the meeting and expressed his appreciation for the Japan's past cooperation towards ASEAN.
 (3)  Minister Kono stated that free and open maritime domain based on the rule of law is a global public good that should be protected by concerted efforts of the international society and that, based on this idea, Japan has upheld its vision of a "free and open Indo-Pacific (FOIP)". In addition, he stated that Japan fully supports the "ASEAN Outlook on the Indo-Pacific (AOIP)" which was announced by ASEAN this June and that Japan will enhance its cooperation and exchanges with ASEAN to realize the synergies between the FOIP and the AOIP.
 (4)  Reviewing our given efforts, he stated that, as to multilateral cooperation, Japan has implemented three initiatives since the announcement of the Vientiane Vision: namely, the maritime domain-focused Ship Rider Cooperation Program, the land domain-focused Invitation Program on HA/DR, and the air domain-focused Professional Airmanship Program. With respect to bilateral cooperation under the Vientiane Vison, he stated that Japan has conducted defense cooperation programs across a wide range of areas as well as having provided practical cooperation through defense equipment and technology cooperation, training and exercises, and also human resource development and academic exchanges, among other initiatives.
 (5)  Having said that, he announced an updated Vientiane Vision; "Vientiane Vision 2.0" with a view to accelerating the momentum of Japan-ASEAN defense cooperation, and explained three major points of the update: firstly, establishing three principles of Japan-ASEAN cooperation which are "heart-to-heart cooperation", "tailored and lasting cooperation" and "equal and open cooperation"; secondly, introducing the concept of "resilience" to clarify the connection between our efforts and ASEAN's centrality and unity; and thirdly, pursuing synergies between the AOIP and Japan's FOIP, and promoting international collaboration between ASEAN member states and third countries.
 (6)  Ministers of ASEAN member states welcomed "Vientiane Vision 2.0" and expressed their expectations towards promotion of even more practical Japan-ASEAN defense cooperation in future under the updated vision.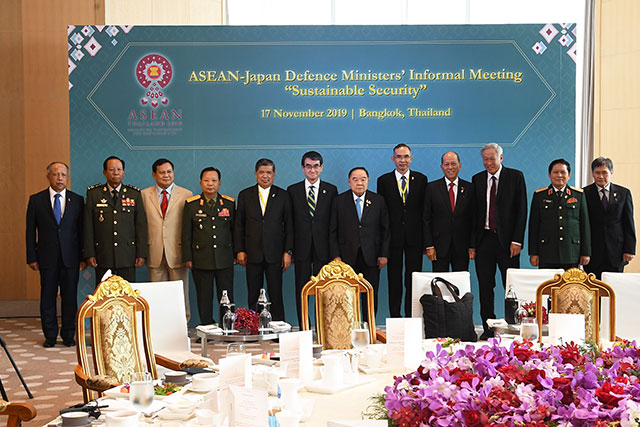 3. Bilateral and Trilateral Meetings
 Defense Minister Kono held bilateral meetings with Thailand, Republic of Korea, India, New Zealand, the Philippines, Myanmar, Singapore, the U.S., and Indonesia, and a trilateral meeting with Ministers of the United States and the Republic of Korea (the meetings were held in the order as the summaries appear below).