PKO (Civil Engineering)

Program Outline
Period
3 December, 2013 - 18 March, 2014
Location
NPMEC in Odongk, Kampong Speu
Recipient
NPMEC (Cambodia's PKO center)
Delegation
1 official from International Policy Division, MOD
4 JGSDF personnel (16 personnel for the road construction activity)
6 staffs from a civilian organization
 The JMOD/SDF has been assisting the Cambodian military to improve its civil engineering capability, such as road construction, since 2012 in order to assist Cambodia to contribute to UN Peacekeeping Operations. The Royal Cambodian Army personnel who joined the first JMOD program are now contributing to UN PKO activities as members of UN PKO engineering units in Lebanon and Mali and have also become trainers for Cambodian military personnel.
 In FY2013, more JSDF personnel were dispatched than the last program. These personnel conducted civil engineering education and training, including road construction, for four months. Participants from the second program are expected to not only acquire practical skills to construct roads and bridges but also become trainers who will help prepare Cambodian military personnel prior to future PKO deployments.
Photos
◇Opening ceremony in 3 January 2013
  Approx. 150 attended including PKO Minister and Japanese ambassador, Cambodia personnel, etc.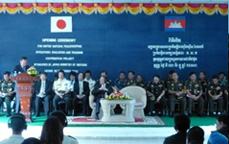 Minister's speech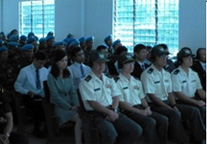 Delegation from the JSDF
and a civilian organization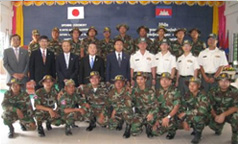 Delegation and recipient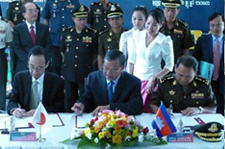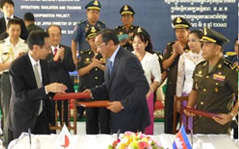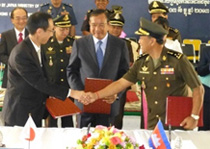 Signing ceremony of intergovernmental agreement between Japan-Cambodia held after the opening ceremony
◇Lectures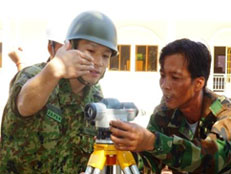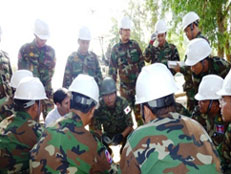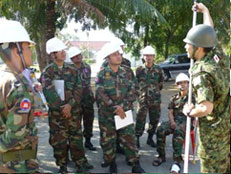 PKO education for each trainee

◇ Road Construction (Maintenance 210 meters road as practical training)