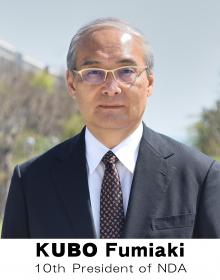 The National Defense Academy of Japan has gone from strength to strength since its establishment in 1952 as the 'National Safety Academy'. In 1954, it was renamed 'The National Defense Academy', and it is the only integrated institution that trains Army, Navy and Airforce cadets to become the future leaders of the 'Japans Self Defense Forces'(JSDF). The academy's education and training programs are designed to cultivate cadet's critical thinking, analytical, and leadership skills. Cadets are expected to enhance their intellectual, physical, and mental capabilities to become JSDF officers. To do so, NDA offers foundational military training. Cadets who graduate, continue to receive specialist training to join the Army, Navy or Airforce.
NDA shares many commonalities with mainstream universities in Japan. The academy's educational curriculum of general education, liberal arts, science and engineering, humanities, and social sciences conforms to the University Chartering Standards of the Ministry of Education, Science and Technology. The curriculum offers cadets the same wide range of courses available to civilian university students. NDA believes that cadets must have a broad outlook on life and a deep understanding of science, civilization and humanity.
Cadets can acquire a bachelor's degree through the National Institution for Academic Degrees and Quality Enhancement of Higher Education (NIADQEHE).
As mentioned earlier, NDA is on par with mainstream universities in Japan.
However, NDA has some unique features. For instance, because cadets are categorised as national government servant, they receive a monthly salary as well as a bonus. Moreover, housing, meals, and uniforms are provided, and tuition is free of charge. In addition to the curriculum, cadets are required to take extra credits in Defense Studies which are specifically targeted to the future leaders of the JSDF. Extra credit courses include study areas such as 'National Security Theory and Strategy', 'Military History' and 'Leadership'
Interestingly, the NDA campus is located on a hill in Miura Peninsula, sandwiched between Sagami Bay and Tokyo Bay, commanding a splendid view of Mt. Fuji. This is an ideal place for cadets to immerse themselves in learning and training. Cadets receive four years of military training on and off campus. This includes training in long distance swimming, skiing, and cutter boat racing. Additionally, cadets are required to join extracurricular sports activities to foster physical strengths and social skills. Cadets live in dormitories where young instructors from the JSDF are assigned to every forty to fifty cadets as mentors. This is a similar system used by universities such as Oxford and Cambridge.
All these aspects are designed to prepare cadets as future leaders of the JSDF in terms of character, discipline, physical and mental strength and to ensure that they can easily adapt to any environment. In contrast to regular universities, where students can feel isolated, cadets often make life-long friends on campus. This is because NDA students must attend all classes and seminars and have close contact with faculty members. Although campus life can be challenging at times, those who persevere will be rewarded with an exceptional graduation ceremony. The ceremony is attended by the Prime Minister and Defense Minister of Japan and is a significant highlight of life on the NDA campus.
The insights and beliefs of Prime Minister Yoshida Shigeru and first NDA President Maki Tomoo are ingrained in various aspects of NDA. Concerned about the re-emergence of the rivalry between the Navy and the Army during pre-war times, Yoshida insisted that Maritime and Ground Division be united when the 'National Safety Academy' was established (later the Air division was added). Yoshida was critical of the pre-war generals. He thought that they were too military oriented. Professor Maki, whom Yoshida personally selected as president, believed that cadets should be gentlemen before being officers (Of course he would now use more gender inclusive language to say this). Therefore, he stressed the importance of liberal arts and life in dormitories. This is also the reason he believed that cadets should have a good understanding of democratic values.
Over the course of seven decades, there have been significant changes at NDA. It first started as a college exclusively for natural sciences and engineering majors because Yoshida felt that the imperial general's judgement and views were not sufficiently scientific. NDA however evolved into a university by adding humanities and social sciences in the 1970's. It had already started a graduate school in natural sciences and engineering in the 1960's and NDA now has a doctoral program in both the 'Graduate School of Science' and the 'Graduate School of Security Studies' (students can earn a degree through NIADQEHE). In addition, NDA now plays an active role as a research institution, having established the 'Global Security Centre'. Starting as an all-male institution, now around 70 out of 480 cadets a year are female. Moreover, NDA is proud of accepting more than five percent of the cadets from abroad. Approximately one out of ten cadets are given a chance to go abroad during their four years on campus. In 2021, NDA started a trial intern program at the 'Japan International Cooperating Agency' (JICA). It is anticipated that this program will develop into an official program in subsequent years. In this program, a couple of cadets will be given an opportunity to work and learn on JICA project sites abroad. NDA looks forward to pursuing opportunities to expand these kinds of programs in future.
Since its conception, the key mission of the JSDF has been the defense of Japan. However, disaster relief and peacekeeping are now part of this mission as well. Cadets are encouraged to devote their efforts to these missions.
Times are changing and so is the role of the JSDF. Japan faces an increasingly unfavourable international security environment. Consequently, the JSDF's role in the public eye is becoming more and more critical. Notably, the JSDF has successfully provided disaster relief to the Great East Japan Earthquake in 2011. Likewise, several peacekeeping operations and the establishment of COVID-19 vaccination centres in 2021 have been advanced. Based on a poll by a major media outlet, the level of trust that the Japanese people have in the JSDF is exceptionally high. NDA humbly, yet firmly, believes that being an NDA cadet is a rewarding career option for the Japanese youth. Dedication to national defense service, loyalty to people and determination to fulfil its missions are the values that NDA upholds. Based on numerous accomplishments over the last seven decades, NDA has not shied away from innovation and has been determined to pursue its mission to educate and train cadets into the future.