Home >
About us >
Produce Environment
Produce Environment
Activities in response to international terrorism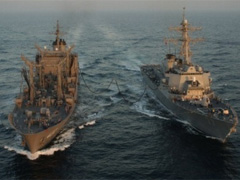 The 6 years of support activities on the Indian Ocean in view of the terrorist attacks in the United States on September 11th, 2001 was tentatively concluded as of November 2007. In January 2008, under newly enacted The Replenishment Support Special Measures Law, Self Defense Fleet redeployed our assets to the Indian Ocean and are providing supply support for foreign ships on anti-terrorism maritime interdiction activities.
The support by Japan Maritime Self Defense Force is the driving force for the maritime interdiction activities by respective countries and we receive high evaluation by international society.
International Emergency Rescue, Disaster Relief operations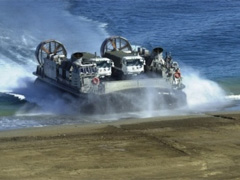 The Japan Maritime Self Defense Force and Self-Defense Fleet are coping with the international disaster relief activities and international Peace Keeping Operations in a positive manner in view of the contribution to humanitarian activities and betterment of security environment. Our first overseas deployment is the deployment of minesweepers to the Persian Gulf in 1990 after Gulf War.
At our deployment, Self Defense Fleet operate our force flexibly to respond to the needs from the foreign government suffering from disaster taking their request of support and the situation of the suffering area into our consideration.
Also, at domestic disasters, Self Defense Fleet dispatch our units and provide search and rescue support for distressed ships or aircrafts and transportation of patients and material for emergency purpose.
Defense exchanges with foreign navies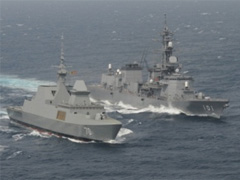 Self Defense Fleet, taking every opportunity, promote defense exchanges by bilateral or multilateral exercises with foreign navies and goodwill exercises with foreign naval ships visiting Japan. Also, by receiving foreign distinguished visitors, we actively exchange dialogues and deepen mutual confidence with foreign countries.
Bilateral defense exchanges are held by security concerned officials for the purpose of furtherance of confidence and cooperation. The feature of bilateral defense exchange is that we are able to have detailed coordination in view of the relation with the country.
Participation to multilateral exercise and hosting such exercise is significant to improve the skill level of Self Defense Fleet as well as to strengthen the soil of defense cooperation by related coordination and opinion exchanges.