Study Tours(domestic)
It is important for students to understand the characteristics, equipment, operational environment and circumstances of each service.
The course student officers visit the places shown on this screen and have opportunities to see the real situation of each unit, and to discuss with unitfs commanders and staff officers of major commands.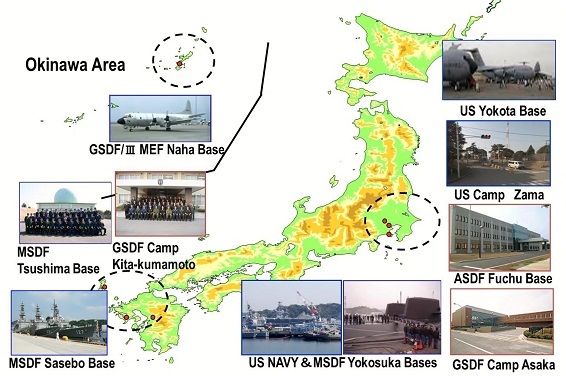 Latest study tours
Field trip to Camp Zama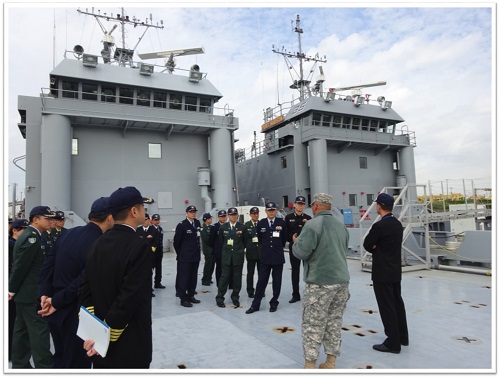 y@Boarding of Landing Craft Utility@z
On 31st (Mon), the students from the 21st Joint Advanced Course went on a field trip to Camp Zama with the purpose of learning the current situation and challenges of the Central Readiness Force (CRF) and United States Army Japan (USAJ).
In the morning, they visited Yokohama North Dock, situated in Yokohama city, Kanagawa prefecture, and saw the Army Field Support Battalion, North East Asia, and USAJ 836th Transportation Battalion. From these battalions, they learned how it supports troop deployment in peacetime and contingency, and assignment in a remote place in the Far East. They also boarded Landing Craft Utility, or LCU and learned the preparedness of the UNSAJ after seeing that it has its own vessels to carry tanks, and conduct relevant training incessantly.
After that, they moved to Camp Zama, USAJ, located in Zama city, Kanagawa Prefecture, where Major General Pasquarette, Commander of the USAJ, gave a mission brief and exchanged views on the concerns he himself presented. The students was deeply impressed with gthe guideline on assignment based on a clear goalh while understood that he puts an emphasis on the Japan-U.S. alliance, and saw his sincere effort in fostering its partnership.
In the headquarters of the CRF, the Vice Chief of Staff, Miyazaki provided a mission brief, and the Commander Kobayashi laid out the challenges the troop has, and mental posture the officers of the Self-Defense Forces should keep. The students understood a great deal of effort the CRF makes to address various reforms and changes in the midst of the great reform the Ground Self-Defense Force sees.
| | |
| --- | --- |
| | |
| y@Mission Brief by Commander Pasquarette@z | y@Remark by Commander Kobayashi@z |