After Graduation
After graduating, cadets are promoted to sergeant major (Ground Self-Defense Force), master chief petty officer (Maritime Self-Defense Force) or chief master sergeant (Air Self-Defense Force) and enter officer candidate school; the Ground SDF Officer Candidate School at Kurume; the Maritime SDF Officer Candidate School at Etajima; or the Air Officer Candidate School at Nara.
There they join their fellow officer candidates from the civilian universities and, upon completing about one year of training, are commissioned as officers with the rank of Second Lieutenant and assigned to a unit.
After a few years of service, some officers are offered an opportunity to enroll in a graduate program at a civilian university or the graduate program at the National Defense Academy.
They are expected to earn a degree in science, technology, or a social science that will help them carry out their missions as officers of the Self-Defense Forces.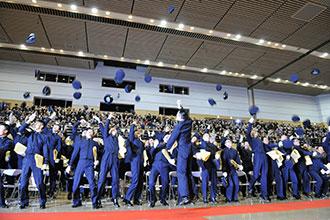 Graduation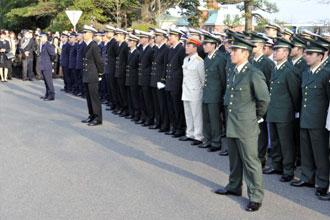 Appointment Ceremony Fresh Graduates to become Officer Candidates