Graduate School of Security Studies
Master's Course
NDA established the Graduate School of Security Studies in 1997 to offer advanced courses in security studies, mainly to JSDF officers. The faculty of the Graduate School is comprised of qualified professors of NDA.
During the two-year course, students are expected to do research on security-related subjects. This course admits around 15 or 20 students each year based on the results of examination measuring their academic potential.
The School offer three main courses of International Security, Strategic Sciences, and Security Law.
Because security encompasses more than military operations, this program offers a unique opportunity for advanced research.
In order to graduate, students are required to earn a minimum of 30 credits in both required and elective subjects, to write a thesis in their area of specialization, and to pass their degree examinations.
Moreover they can receive a master's degree equivalent to that from a civilian university after they pass thesis screenings and degree examinations of NIAD-UE.
A master's degree in security studies is not meant as practical training for the daily operations of JSDF or MOD but as an opportunity to do academic research.
In order to utilize its potential as the first graduate school in Japan to specialize in security studies, the school is open not only to JSDF officers and MOD officials but also to journalists, researchers of private think-tanks and officials from other governmental agencies. These students from outside MOD include officials from the Maritime Safety Agency, Diet personnel, and journalists from the Sankei Shimbun, Yomiuri Shimbun and Asahi Shimbun. In addition, the school is constantly striving to internationalize its program.
For example, it has accepted military officers from the Republic of Korea and Mongolia since 2000.
Doctoral Course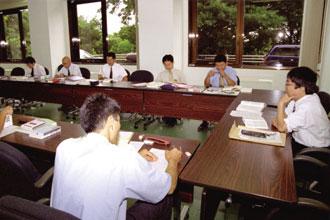 The Doctoral course admits around seven students each year and requires three years of study for a Ph.D.
In order get a Ph.D. degree, students must pass their course examinations, submit a Ph.D. thesis, and successfully defend their thesis in an oral examinations administrated by the NIAD-UE.