Mission of JMSDF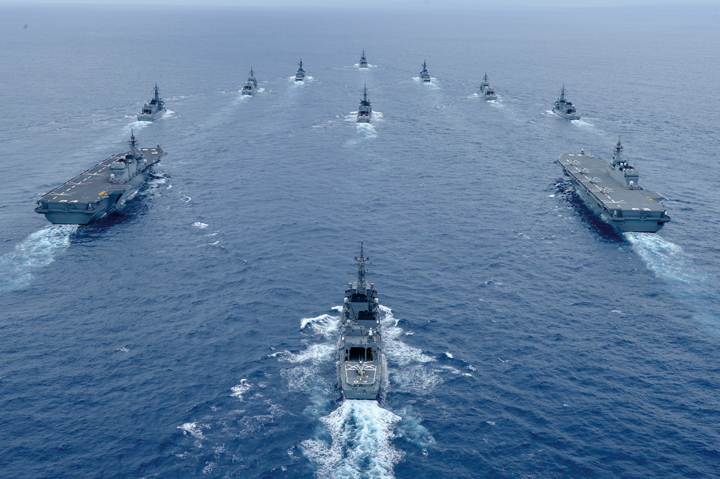 Japan is a quintessential maritime nation surrounded by oceans in every direction and has the world's sixth longest coastline and the sixth largest exclusive economic zone.
Our trade requires stability of maritime security and an international order since Japan depends heavily on foreign resources, foreign food and overseas markets that rely on sea lanes of communication (SLOCs) for over 90% of its trade.
However, there exists challenges to the free use of oceans and freedom of navigation, such as unilateral assertions of countries' rights which are incompatible with the existing international order, frequent occurrence of piracy, terror and smuggling at sea . The international community is deepening interdependence among nations in a coordinated fashion on these issues.
The JMSDF conducts patrol and surveillance and training on a daily basis to protect the safe and free use of oceans as the life line of Japan surrounded by the sea.
It is much appreciated if you would learn about an aspect of our daily activities and promote better understanding as to the JMSDF with this brochure.
The goals of the JMSDF
Based on the National Security Strategy approved in December 2013 and the National Defense Program Guidelines (NDPG) approved in December 2018, the JMSDF conducts activities toward the following three goals:
1) Defend Japan's territory and surrounding areas;
2) Secure the safety of maritime traffic; and
3) Create desirable security environment.
The basic concept behind the goals is to deter threats through continuous operations from peacetime and defend our nation to the end in contingencies.
In order to achieve those goals, the JMSDF will continue to maintain and develop defense capabilities to firmly defend Japan in case of contingencies as well as engage diverse activities, such as daily 24/7 ISR operations.
Deter activities
Persistent ISR
To appropriately respond to various and complex contingencies, the SDF always need to undertake patrol and surveillance and information gathering in our territorial waters, airspace and neighboring areas.
Therefore the JMSDF's P-1 and P-3C patrol aircrafts monitor the activities of ships and vessels in the seas ; besides it carries out warning and surveillance activities surrounding sea areas with destroyers and aircraft to locate missile launches, and improves capabilities to cope with foreign submarines and spy ships in our territorial waters.
Contingencies response
Response to the ballistic missile attacks
The proliferation of weapons of mass destruction and ballistic missiles is not over yet despite the fact that the international community tries to stem it.
In regard to ballistic missile defense(BMD), the JMSDF is currently working with the U.S. Navy to develop its skill in coping with ballistic missiles, and deploying Aegis destroyers with SM-3 missiles, and succeeded in the test-launch.
Japan has built up the Japan-U.S. joint Development of Advanced Interceptor Missiles, and is achieving steady progress in our own multi-layered defense system against ballistic missiles.
Response to attack against Japan including its remote islands
As the islands of Japan are attacked with arms, aerial attacks are expected to be combined with attacks against our ships and territory by enemy destroyers. In addition, transport vessels could be deployed to enable enemy ground forces to invade our territory.
Operations for the defense of the surrounding sea areas should be antisubmarine warfare, antisurface warfare and mine countermeasures operation that guard against the invasion of enemy and then obliterate them.
Response to natural disasters
In case of natural disasters either inside or outside Japan, the JMSDF will be engaged with disaster relief operations and international emergency relief activities as well as carry out various activities such as search and rescue of affected people and wrecks and aircraft, flood prevention, medical care, epidemic prevention, water supply and transportation of men and materials. During those activities, the JMSDF will closely cooperate with local governments entities in case of domestic disaster or with the government of affected countries and other relief operating parties.
For that purpose, the JMSDF prepares its first-responding vessel in each base, and keeps rescue aircraft nearby.
Collaboration the United States based on the Japan-U.S.Alliance
The Japan-U.S. Alliance, having the Japan-U.S. Security Arrangements as its core, is indispensable to maintain not only the peaceand stability of Japan, but also that of the entire Asia-Pacific region. In addition, the close cooperative relationship between Japan and the United States based on the alliance is extremely significant for effectively dealing with numerous and complex global security issues.
The JMSDF and the U.S. Navy try to strengthen Navy try to strengthen through mutual confidence-building measure (CBM) and development of tactical skills in various training while improving interoperability accumulated so far.
Activities that the JMSDF carries out
Shaping activities
Strengthening security cooperation
The JMSDF deters materialization of threats by dealing with various security issues in cooperation with the international community as well as continuously improving security environment.
As part of such efforts, the JMSDF contributes to addressing global security challenges and make efforts in defense cooperation and exchanges including joint training and exercises, defense equipment and technology cooperation, capacity building assistance, and interaction among military branches.
Ensuring safety of maritime traffic
For Japan as a maritime state, ensuring the safety of maritime transportation based upon such fundamental principles as the rule of law and the freedom of navigation serves as the cornerstone of peace and prosperity.
The Ministry of Defense and the SDF, in accordance with the Government of Japan's policy, have continued anti-piracy operations off Somalia and in the Gulf of Aden since March 2009. In May 2015, Japan sent a JMSDF officer as the commander of Combined Task Force 151 (CTF-151), the first time that the SDF personnel took command of a multinational task force. Thus, Japan has contributed to preventing acts of piracy, which has been highly appreciated by the international community.
In addition, in February 2020, Japan commenced information gathering operations in the Middle East to ensure safety of Japan-affiliated vessels by one JMSDF destroyer and P-3Cs.
Conclusion
Since the establishment of the JMSDF, we have set up efforts to ensure our ocean's security; in recent years, now we are required to play more broad and important roles in the international community.
We will continue to work hard to promote maritime peace and stability in the global ocean as the Asia-Pacific region.