March 27 2018 Message from the Chief of Staff

「New JGSDF, Activated」
To all of our website viewers, I sincerely thank you for your unwavering understanding and support for the Japan Ground Self-Defense Force.

severe since the end of World War II. This is due, in no small part, to the current situations in North Korea, China and Russia, not to mention an increase in serious challenges and destabilizing factors such as regional conflicts, international terrorism, cyberattacks and large-scale natural disasters.

Under these circumstances, the JGSDF is firmly determined to secure the lives and peaceful livelihood of the Japanese people in any situation. With this determination, and to develop a "Dynamic Joint Defense Force", as indicated in the National Defense Program Guidelines, we have established the Ground Component Command, the Training Evaluation Research & Development Command, and the Amphibious Rapid Deployment Brigade. The JGSDF has also transformed the 8th Division and the 14th Brigade into a Rapid Deployment Division and a Rapid Deployment Brigade, respectively, on 27 March, 2018. Through this reorganization, we have formed the key architecture of an "Adaptive, Agile, Ground Defense Force". Consider this the activation of a newly reborn JGSDF.

On this occasion, and for the first time in 27 years, a new uniform is introduced. The new uniform color is a deep purple. This new color, along with its refined and modern design, symbolizes values such as "a sense of mission," "resilient toughness" and "dignity". The newly introduced uniform represents the JGSDF's resolve in carrying out one of the largest and most historic structural reforms since its establishment, and is expected to renew the motivation and mindset of its personnel.

The new structure will enable us to respond effectively to the severe security environment surrounding Japan. Meanwhile, the JGSDF will exert an all-out effort in accomplishing our missions and tasks, on a daily basis, to fulfill our public mandate.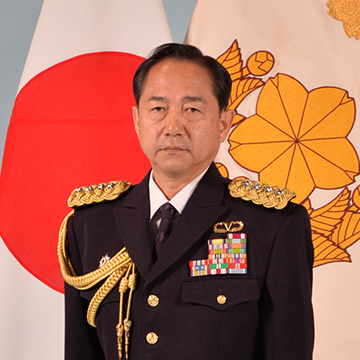 陸上幕僚長 陸将 山崎 幸二
(Chief of Staff, GSDF General Koji Yamazaki)