Disaster relief operation
The GSDF contributes to the protection of Japanese lives and property by conducting disaster relief operations, such as rescue or lifesaving operations as a result of large scale accidents or domestic natural disasters, including earthquakes, storms and flood damage, volcanic eruptions, or snow-related disasters.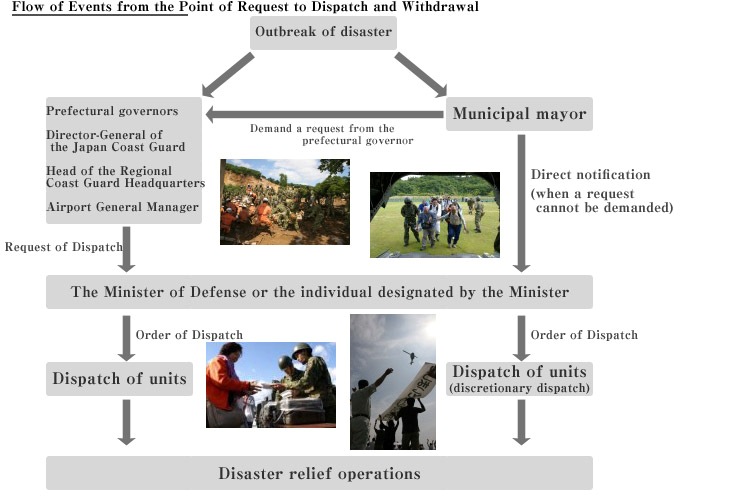 When it is deemed necessary for the protection of lives or properties because of natural calamities and other disasters, the GSDF are dispatched by order of the Minister of Defense, or an individual designated by the Minister, upon the request of the Prefectural Governor or other official, or without this request when the situation is particularly urgent and there is no time to wait. The GSDF perform a variety of activities, including such things as search and rescue for accident victims, assistance to ships and aircraft in distress, flood control, medical treatment, epidemic prevention, water supply, and transportation of personnel and supply. The GSDF also uses organic aircraft to transport emergency patients living on isolated islands where there are few medical institutions.
Disaster relief operation activity photograph
Disaster relief operation for Great East Japan Earthquake(2011)
Disaster relief operation for Foot-and-mouth disease outbreak in Miyazaki Prefecture(2010)
Iwate, Miyagi inland earthquake (2008)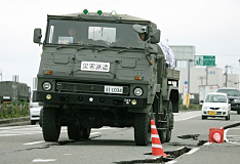 Disaster relief operation for Niigata Chuetu earthquake (2007)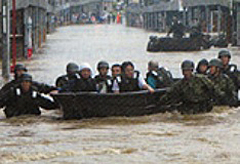 Disaster relief operation for heavy rain in Kagoshima(2006)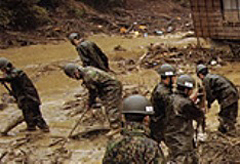 Disaster relief operation with water supply support in Kure and Edajima city in Hiroshima prefecture (2006)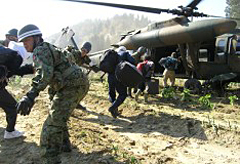 Disaster relief operation for Niigata Chuetu earthquake(2004)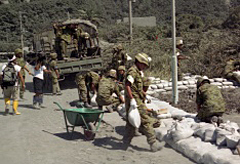 Disaster relief operation for eruption of Miyakejima volcano(2000)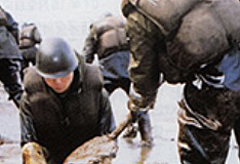 Disaster relief operation for maritime accident and oil spill by the Nakhodka (1997)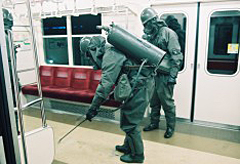 Disaster relief operation for Sarin gas attack on the Tokyo subway (1995)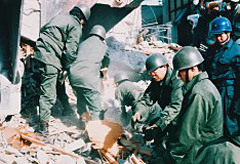 Disaster relief operation for Great Hanshin Awaji earthquake (1995)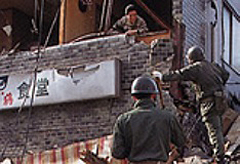 Disaster relief operation for Mt. Unzen Fugen volcano eruption (1991)