2018
The JGSDF 14th Brigade reorganization ceremony
 The JGSDF 14th Brigade reorganization ceremony was held at Camp Zentsuji on Sunday April 1st, 2018, under the command of Major General Hajime Kowase.
 The 14th Brigade was reorganized as a Rapid Deployment Brigade with improved rapid deployment capabilities to respond quickly and effectively to various contingencies including attacks against remote islands.
 Additionally, a Rapid Deployment Regiment was newly established under the Brigade, which is equipped with the new highly mobile Type-16 Maneuver Combat Vehicle and organized as a combined arms unit with infantry, armor, and field artillery in a single package. Therefore, Mr. Keitaro Ohno, the Parliamentary Vice Minister of Defense presented the regiment color to Colonel Toshio Imai, the commander of the 15th Rapid Deployment Regiment.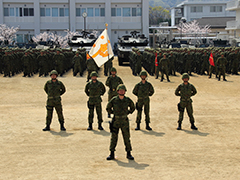 14th Brigade reorganization ceremony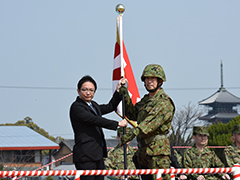 The 15th Rapid Deployment Regiment Color Presentation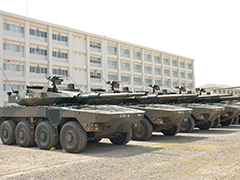 Type-16 Mobile Combat Vehicle